Location: ATLANTIC CITY, NEW JERSEY
GLAMOUR, GEEKS & GANGSTERS
Atlantic City Before the Casinos
A huge mosaic mural on the Atlantic City Airport terminal building depicts the boardwalk's pre-1950s heyday as a mecca for movie moguls, socialites, gangsters and star entertainers.
The essence of Atlantic City history during the pre-casino era can largely be summed up in three words: glamour, geeks and gangsters. Originally created in the 1850s as a genteel retreat for Philadelphia's upper crust, the seaside resort soon developed a madcap personality of its own, becoming one of America's most fabled cities -- a distinction it has never lost. Atlantic City is, for instance, the basis of the game MONOPOLY that has enshrined its very street names -- "Park Place," "Atlantic Avenue," "Marvin Gardens" -- as icons of America's wealth-worshipping culture.
Vulgar and Magnificent
There has always been a sense of unbridled freedom and adventure about the place, heavy as the smell of salt air. It's as invigorating today as it was twelve decades ago when the first hordes
of visitors came to stroll a rickety plankway overlooking the same pounding surf. That planked walkway (the world's first boardwalk) and those crowds (the beginning of a tourist explosion wrought by the new railroads) were the forces that so uniquely shaped the city in ways vulgar and magnificent.
Atlantic City's luxury hotels were legendary from the start. One of the first built -- the 600-room United States Hotel -- was the country's largest and the place where Ulysses S. Grant vacationed during his second term as President. By the turn of the century, the boardwalk was four miles long and lined with glittering hotel resorts catering to the east coast's nouveau riche industrialist set.
Lil and Diamond Jim
At the Brighton Hotel, sultry actress and singer Lillian Russell -- the Madonna of her day -- cavorted with long-time lover "Diamond Jim" Brady, the flamboyant railroad magnate known for wearing only the largest jeweled stick pins. Brady was also famed for the wads of bills he shoved at the boardwalk's rolling chair operators who transported him and his blond diva between the night's ballroom events.

Up until World War II, the city's skyline remained an internationally famous symbol of glamour and architectural excess on a par with European palaces. The Traymore, Dennis, Claridge, Ritz-Carlton, Marlborough-Blenheim, President, Ambassador and others stretched along the ocean front like a string of fantasy confections. That pre-casino skyline is shown in a large mural on the front of Atlantic City's International Airport terminal building (above).
Geek Show of a Boardwalk
In direct contrast to the grandeur of the buildings it fronted was the geek show of a boardwalk. In a continuous carnival of shameless stuntsmanship and wild hyperbole, hucksters competed for paying customers with ever-weirder and outrageous attractions. These included adult female siamese twins joined at the hip, midget boxers, fighting kangaroos, fantastic fat people, dancing tigers, Rex the water-skiing dog, chickens that could hit baseballs and "sea monsters" consisting of any creature of substantial size hauled up that day by local fisherman.
Amusement piers -- some of them a half-mile long -- were built out into the ocean, providing large, circus-like arenas for vaudeville acts, minstrel shows, and performers like escape artist Harry Houdini. But the most famous boardwalk act of all time ran on Steel Pier for 49 years: the high-diving horse. Several times a day, a horse and its scantily-clad female rider would leap from a 60-foot tower into a pool of water. Amazingly, one of the riders -- Sonora Carver -- was blind. Her story was celebrated in the 1991 movie, "Wild Hearts Can't Be Broken."
National Center of Music and Theater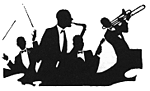 The dense collection of amusement piers, local theaters and hotel concert halls evolved into one of the nation's most important entertainment centers. By the 1920s Atlantic City was established as a kind of Hollywood East, swarming with a glitzy assortment of movie stars, producers, musicians, song writers, and entertainment moguls. In the 30s, the city was THE home for "Big Band" music, the place where a skinny kid named Frank Sinatra sang in the Harry James band as he angled for his first big break. Up until 1960, you could still see the likes of Marilyn Monroe, Jimmy Durante, Frankie Avalon and Paul Anka regularly limousining around town.
Gangsters by the Sea
It was just as common to catch a glimse of famous gangsters. For half a century, Atlantic City was notorious for its mobsters, back-alley gambling dens and speakeasies. During Prohibition, the nearby maze of inlets, marshes and river mouths provided an ideal avenue for waterborne smugglers landing cargoes of European whiskey.
The city was a neutral zone where mobsters from all jurisdictions came for rest and relaxation. For instance, Meyer Lansky honeymooned here in the Presidential suite of the Ritz-Carlton. There, he held court for local celebrities and politicos; the chief political boss of Atlantic City -- "Nucky" Johnson -- arrived bearing French champagne and a fur coat for Lansky's new wife.
Mobster Convention
In May of 1929,
mob kingpins from around the country, including Lansky, Lucky Luciano, Dutch Schultz and Al Capone, gathered for a three-day national convention in Atlantic City's Ambassador Hotel. Earlier that year, Capone had generating shocking headlines with his "Valentine's Day Massacre" machine-gun killings of bootlegging rivals in Chicago. And just days before arriving in Atlantic City, he had used a baseball bat to cave in the skulls of three disloyal lieutentants in a crowded banquet room in Indiana. The gangsters gathered at Atlantic City's Ambassador sought to find ways to end their bloody wars, coordinate their national racketeering activities and reign in Capone, whose ferocity unnerved even them.
Capone was the loser at that 1929 meeting and left Atlantic City a lesser mobster. In an apparent attempt to protect himself from the hit men of his fellow conventioneers, he took the train from Atlantic City to Philadelphia, turned himself in on a minor gun possession charge and willingly went to jail for a few months. Lucky Luciano, on the other hand, left Atlantic City with new stature and power as an emerging national mob boss.
End of the Heyday
By the 1960s,

well-heeled travelers were vacationing in Miami or Bermuda instead of at the Jersey Shore. Las Vegas had become the new entertainment capital of the country and Atlantic City was a decaying shadow of its former self. Even the mob had lost interest in the place. By default, it became the farthest flung and lowest priority portion of the territory ruled by Philadelphia mafia don, Angelo Bruno.
Years before, Bruno had taken young Nicodemo (Little Nicky) Scarfo into his organization at the behest of Scarfo's uncles, who were important underworld associates. But the Philadelphia don detested Scarfo because of his uncontrollable temper and violent excesses. In 1963, Scarfo infuriated Bruno when he knifed a longshoreman to death in an argument over a seat in a South Philadelphia diner. Unable to have Scarfo killed because of his uncles, Bruno instead "promoted" Scarfo by making him capo of Atlantic City, thus banishing him to rule over a grim landscape of slums, abandoned stores and crumbling hotels edged by a nearly-deserted boardwalk.
End of an Era
The tail end of that waning mobster era is the subject of the classic 1980 movie, "Atlantic City." Set in 1978, just after legalized gambling was approved, it is the story of a hapless oyster bar waitress (Susan Sarandon) and a burned-out mob go-fer (Burt Lancaster) who find a measure of love and redemption against a backdrop of the explosions bringing down the old hotels to make way for today's casinos.
---
All Rights Reserved, © 1998 - 2008, Hoag Levins
Contact: HoagL@earthlink.net