<! ------------------>
<! ----------------->

REGIONAL INFLUENCES
Chester County, Pennsylvania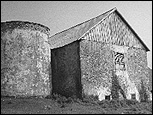 The rear patio side of Esherick's mountainside house (center) features structural shapes and materials like those of a nearby Chester County stuccoed silo and barn (left), and the rubble pillars that are a unique element of other area barns (right).
Since the 1940s, when they first took notice of him, national reviewers and other art authorities have been struck by the way Esherick's work entwines the spirit of modern sculpture with the material essence of early American trade craft. This is nowhere more evident then in the buildings he constructed on his Paoli mountainside. For instance, the steps of his famed staircase seem to spiral downward as delicately as flower petals even as their hand-hewn mass evokes a sense of the ponderous wooden machinery found in colonial gristmills.
As a young man, Esherick dropped out of urban life in Philadelphia and moved to what was then a sparsely-populated farming community in Chester County, 25 miles west of the city. One of the nation's most fertile areas, the region was also one of the earliest settled by European colonists in the 1700s. Today, it is still dotted with covered bridges, spring houses, blacksmith shops, sprawling barns, waterwheel mills and farm house complexes built by a community dating back to the German and Swedish immigrants who originally wrested farms from wilderness.
Rustic in inclination, yet endowed with academy-disciplined artistic skills, Esherick was among the first wave of American artists to embrace the newly emerging concepts of non-tradtionalist art in the first decades of the century. Thus, the inspirations he drew from the pre-industrial architecture of Chester County were physically executed in the new vernacular of modern art. The resulting works were as strangely fresh as they were comfortably familiar; objects that resonated with the essence of the most traditional as well as the most avante garde. In effect, he was using wood and stone to express the same sort of Impressionist and Cubist interpretative visions that others of his generation were working out with oils or clay.
His studio/house has walls of raw, random stone much the same as those of ancient farm buildings nearby, yet the walls are all curved in a manner that provides a unique distortion. In its exterior, his house (above photo, center) clearly echoes the stone work, board-and-batten wooden siding and stucco-covered stone silos of a typical Chester County barn (above photo, left) even as it changes the line and form of such elements in unique ways. Esherick's patio (above photo, center) is supported by rubble pillars similar to those which are a construction element unique to Chester County barns (above, right). In the 1800s, farmers there built large open "overhang" wings to provide a convenient storage space for tools and quick shelter for animals. The conical pillars were constructed of mortar and the odd bits of stone rubble left over from the main stone wall constructions. As always, Esherick added his own touch to the local technique by making his tapering pillars somewhat elliptical, rather than circular in shape.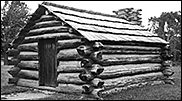 Left: a Valley Forge log cabin. Right: Esherick's wood storage building.
In 1927, when he built a small wood storage building, he used the raw techniques of log cabin building -- similar to the sort of structures that still dot Valley Forge National Park (above, left), within walking distance of his home. Yet the face of his log building is a skewed geometric work (above, right). One side of its roof is convex, while the other is concave. The overall effect is that of a cubist painter's image of a log cabin executed in three dimensions: a building as Cubist sculpture. While such structures seem delightfully whimsical, they required extraordinary amounts of physical labor and handcrafting skills to construct -- particularly in an era when power tools were not available.
Esherick did not use power tools -- except for a bandsaw built with bicycle wheels -- until the 1960s, the last decade of his life. Thus, the majority of his works, including the massive ones for which he is most famous, were produced with hand tools similar to those used by eastern Pennsylvania's original pioneer builders.
---
---
All Rights Reserved
© 1996 - 2004
HoagL@earthlink.net