By Hoag Levins
CAMDEN COUNTY, N.J. -- Dolley Madison, the Quaker farm girl who rose to become the Presidential wife and cultural icon for whom the term "First Lady" was originally coined, spent part of her early life in Philadelphia and Camden County, N.J.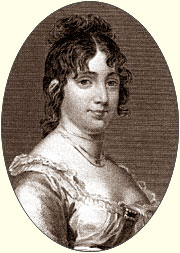 Image: Library of Congress
Dolley Madison, the Presidential wife for whom the term "First Lady" was originally coined.
---
Her life story -- a tale of extraordinary accomplishment -- begins in a time of great ferment for the Society of Friends as well as the general colonial society then embroiled in political turmoil that would soon trigger a war.

Throughout the 1770s, the inhabitants of the colonies were subjected to a constant barrage of speeches, pamphlets and exhortations designed to make them contemplate the personal meaning of liberty and freedom. And while the primary purpose of this long-running campaign was to whip up support for the insurrection against British rule, it had other curious side effects as well.

For instance, one of those who appears to have been profoundly moved by words about the inalienable rights of man was John Payne, Jr., a wealthy plantation owner in Hanover County, Virginia. Before the war broke out, he and his wife, in search of a more meaningful personal truth, joined the Society of Friends, which was exorting its members to cease their possession and use of slaves. In 1783, two years after the war ended, Payne abruptly freed his plantation slaves, paid the large punitive fees required to ensure their freedom, sold off his lands and herds, and moved to Philadelphia, the Quaker-dominated capital of the only state that had outlawed slavery.

Dolley Payne's Life Changes in Philadelphia

Determined to start a manufacturing business and invest in land development, John Payne moved his family, including his 15-year-old daughter, Dolley, into a large house on Chestnut Street. But he was dogged by disaster. A corn starch manufacturing enterprise he started failed because, among other things, he insisted on overpaying his workers. His land investment ventures also went bankrupt, leaving the family financially strapped. His oldest daughter, Dolley, dropped out of Quaker school to take over the heavy family cooking chores formerly performed by slaves. Her sewing skills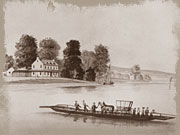 Image: CCHS
Young Dolley Payne would have traveled to Haddonfield via the ferry that ran between Philadelphia's waterfront and Cooper's Point on the New Jersey shore, as shown in this 1779 illustration.
---
were also put to use making clothing for her six brothers and sisters who still lived at home.

For a respite, Dolley -- who never used her real name of Dorothy -- is believed to have frequently traveled the short distance from Chestnut Street to Haddonfield to spend time in the country with the family of Hugh Creighton, the owner of the Indian King. Available reports suggest that Creighton was her uncle.

A biographer notes: "(Dolley Payne) was exceptionally pretty by the standards of her time with a natural vivacity. Even at 15 she had a magnetic quality that drew people to her, an attraction that a later age would call charisma. People were always aware of her proximity. Men stared at her when she walked down the streets and at social gatherings she became the center of attention."

Dolley at Indian King Festivities

In the post-war period, the Indian King Tavern's second-story assembly room -- which had the largest floor area of any non-religious public room in the area -- frequently hosted music and dancing fests. The dancing -- similar to what is today known as clogging or step dancing -- literally shook the tavern as up to 40 men and women stomped up and down in unison across groaning floor boards as fiddlers flailed away. And although, as a Quaker, Dolley Payne was prohibited from dancing, she is said to have taken a particular delight in the social excitement and pageantry of the affairs as well as in high-spirited interactions with her aunt and uncle and cousins as they played gregarious hosts to the thirsty crowds.

Given her well-documented interest in cooking and creative food preparation, it seems likely that she also spent considerable time studying and discussing the kitchen operations of the tavern -- which was then known for serving the best food of all the public houses in the area.

Dolley was also something of a tomboy. As a girl in Virginia, she had often drawn her mother's ire by going on fishing outings with her brothers, riding horses full-saddled, taking an interest in pistols, and challenging adult plantation visitors to foot races that she frequently won. In Haddonfield, local lore has it that she initially raised eyebrows with her habit of joining her male cousins as they leaped onto the rear of mail coaches departing the Indian King, hanging onto the jouncing wagons for a mile or so before dropping off for the sun-dappled walk back into the village.

One local reminiscence written in the nineteenth century indicated that the tightly-knit community of Haddonfield women quickly embraced the rapidly maturing teenager as one of their own, inviting her to outdoor parties in the summer and the quilting marathons that were major social events during the winter.

Dolley's First Marriage

In 1790, the same year her uncle retired and sold the Indian King Tavern, 22-year-old Dolley Payne married Quaker lawyer John Todd and quickly had two children. In 1793, both Todd and one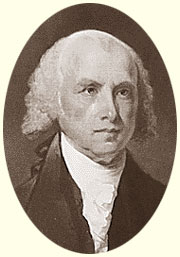 Image: Library of Congress
James Madison, the fourth President of the United States and second husband of Dolley Madison.
---
of the couple's children died in the yellow fever epidemic that swept the Philadelphia region. Meanwhile, her parents had been reduced to such financial desperation that her mother turned the 18-room family home on Chestnut Street into a boarding house for federal officials who were flooding into Philadelphia as that city became the temporary capital of the new Republic.

James Madison

Among those who boarded at Mrs. Payne's house were Thomas Jefferson and Aaron Burr. Jefferson was visited at the boarding house by James Madison, who developed an interest in the widow Dolley. In 1794, Dolley married Madison and was officially expelled from the Society of Friends for marrying outside the faith. From that point on, Dolley Madison remade herself to become America's first superstar fashion celebrity.

As the wife of one of the country's most important and visible political figures, she blossomed as a dress designer and fashion leader, setting styles in both America and Europe. As White House hostess for widower President Thomas Jefferson during the eight years of his presidency, she became internationally famous for her state dinners and trend-setting cooking. When her husband served as President from 1809 to 1817, she became a genuine wartime hero. In 1814, at the height of the new conflict that broke out between England and the United States, the British landed an army of 4,000 in Maryland and invaded the new capital of Washington, setting fire to its largely wooden buildings, including the White House. As her husband rode out with the Federal troops against the British, Dolley Madison left all her personal possessions to burn as she rescued Gilbert Stuart's life-size portrait of George Washington and other historic federal documents. Fleeing through the chaos of a city whose burning skyline was punctuated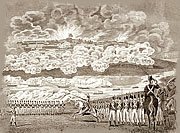 Image: Library of Congress
A period illustration of the British setting fire to the White House and surrounding Washington on August 24, 1814.
---
by exploding munitions depots, she escaped into the Virginia countryside and took refuge on a farming estate.

Beloved Figure

After her husband left office in 1817, Dolley Madison spent the last three decades of her life as the leading hostess -- and a beloved national institution in her own right -- in Washington. She also remained one of Washington's most ardent anti-slavery advocates and, according to the memoirs of President James K. Polk, even as an elderly woman, continued to challenge the teenage children of relatives and friends to barefoot races across her lawn.

In 1886, Camden County historian Geroge R. Prowell wrote that even "in her exalted position (Dolley Madison) never forgot her friends in Haddonfield, nor the many pleasant days she spent among the people there. Some of her old admirers sought honorable promotions at the hands of her husband during his administration (and when greeting them at the White House) she would always relate the reminiscences of her early life, making inquiry concerning the old (Haddonfield) families."