NEW YORK -- Video has become an important part of online news reporting and marketing and when Advertising Age magazine decided it needed an in-house video studio, it gave me the task of figuring out how to do create one. As editor of the AdAge.com web site since 2001 I had produced weekly audio podcasts for some time, so moving into video seemed a natural evolution.
I was also the only person in the news room who had any video experience. For nearly four years in the 1980s, I worked as an editor at a publishing company that produced reference and training books about industrial environmental hazards. One of my first assignments was to research how the company could set up its own studio to produce video training programs as partner products to its books.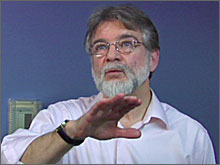 Photo: Karl Idsvoog
One of Hoag Levins' jobs at Advertising Age was to set up an online video studio and integrate news room staff members into its operation.

The publishers and corporate communications departments that are today joining the migration to online video content can thank their stars for the digital revolution that has so reduced the size, complexity and cost of creating and running a basic video studio.
Lights
The first step in the Ad Age project was to find a suitable room within the two floors the company occupies in a midtown Manhattan skyscraper. I was looking for someplace windowless and high-ceilinged. Precise control of the amount, intensity, direction and color of light is a crucial consideration in studio video shoots; and high ceilings are relatively easy to create in most modern office building spaces by simply removing the drop ceilings.
Generous ceiling space is also related to lighting requirements -- video shoots are best illuminated with special light fixtures that use reflective umbrellas and large translucent fabric "soft boxes," both of which are gawky units mounted atop tall light stands.
The room's size is another consideration -- space is critical to precisely controlling light and achieving certain studio lighting effects. The light separation distance required between the subject and the backdrop can often eat up six feet of studio length.
Overall, the distance from the wall against which our main backdrops sit to the video camera is 18 feet. That corridor of space, roughly 10 feet wide, has to be kept free of objects, so everything else you want to have in a studio needs additional space.
Sound
Noise is another issue in office-space studios. That overhead hum you never really notice when you're sitting at your desk can be a whole different thing when you're trying to adjust sensitive microphones to record clean, clear sound. In our case, it cost nearly $10,000 to have a small section of our floor's air conditioning system sound proofed.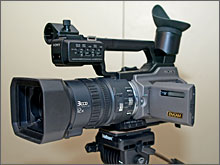 Photo: Hoag Levins
Ad Age went with Sony DSR-PD170 video cameras because they're rugged and relatively economical. The PD170 has long been a workhorse camera of TV news crews.

Once we had the physical studio room done, our goal for equipment purchases was simple: We wanted to acquire the minimum amount of gear required to produce professional looking news programs that would ultimately be streamed to an online audience in a 72 dpi computer screen format.
This sounds pretty simple and straightforward but, in many places, isn't. A newsroom or corporate department's decision to move into video can spark fierce debates. The organization's tech staff tend to favor the latest, leading edge, and most complicated. But making good online video is more about good storytelling than it is about cutting edge technology. Your video producer should be primarily thinking about the story that needs to be told -- not the hardware. The camera should be to him or her as a saw or chisel is to a cabinent maker -- the tool should never get in the way of the creative piece being produced.
It's also very important for company management to keep in mind that simply possessing the basic equipment doesn't actually produce any videos. Most of the reporting and editing staff in trade publishing have no experience in effectively recognizing or telling video stories. A crucial -- but invisible -- component of a successful onlne video operation is someone who is both a trained journalist and experienced in conceiving and creating meaningful video stories.
Here are the core items of equipment I've used to produce more than 600 video stories for Advertising Age.
Cameras
We went with the Sony DSR-PD170 DVCAM. It's a rugged, small and easy-to-operate unit that records high quality images and audio to Mini DVCAM tape. It's long been a workhorse of the TV news business -- this is the model that many of the news crews in Iraq, Afghanistan and other news hotspots still use on a daily basis. It sells for around $3,000. We bought three of them so we could do two- and three-camera shoots and ensure we'd always have an operational unit, no matter what.
Photo: Sony
Recording good audio can be trickier, and fraught with more unexpected problems, than recording good video images. Get good microphones. We use Sony ECM 44 lavalier mics.

Microphones
For recording sound into the camera, we use Sony Electret Condenser ECM-44B microphones that cost about $100. These are tiny lavalier mics that clip onto your subject's clothing and produce very high quality sound.
Teleprompter
When they first begin planning a move into online video, many news and corporate communications people shy away from even thinking about teleprompters. But these units, which allow on-air talent to read scripts into the camera, make an enormous difference in a producer's ability to create coherent, compelling stories from raw footage. The ability to write precise scripts that lead into, bridge over, or contextualize sections of live action or interview footage is incredibly powerful. We purchased a Mirror Image brand LC-160 teleprompter with a 15-inch screen for $3,995. The camera fits into the back of the unit, while a heavy-duty Bogen/Manfrotto 515MVB Professional Video Tripod holds the whole thing steady. The tripod costs about $1,100; we acquired two to use as in-studio camera mounts. We also bought much lighter weight, easily portable tripods to use with the Sony cameras in the field.
A separate company -- EZ Prompt -- makes the software that actually runs the teleprompter at a cost of about $500. You also need a laptop PC to run the software, so figure another $1,200.
Lights
For lighting we turned to Lowel, purchasing Lowel T1-10 Tota light units that included light head, 8-foot stand and white reflective umbrellas. The Lowel Trans-Kit contains three Tota light units with stands and umbrellas for about $1,100. These lights illuminate the background. For the front lighting used to illuminate the subject, we bought four Lowel Rifa-Lite 44EX Tungsten Light Kits which sell for about $400 each. These are soft light boxes and stands that provide even, pleasant lighting for skin tones.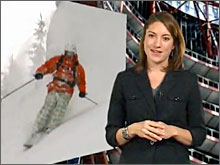 Photo: Hoag Levins
This on-air Ad Age editor is actually standing in front of our green screen. The background detail for the story about ski resort marketing was digitally added later.

While you can use an existing wall or partition for background, it is helpful to have more control of the look and color of the background; for this we use seamless backdrops hung on a large stand made for this purpose. Denny Manufacturing Company's Background Stand Kit BS-1012, for instance, sells for about $200 and comes with two heavy-duty 10-foot stands, a crossbar that expands to 12 feet and a bag for carry-all bag. Denny, as well as all major photo houses, carries a wide variety of rolled paper ($60) or fabric ($150+) seamless backgrounds that hang from this unit.
We used a roll of green chromakey paper to create a permanent "green screen" backdrop area. This allowed us to shoot subjects and quickly add whatever background we wanted afterward, during the computerized editing process. We weren't going for gimmicks here. This is a very economical way to create the onscreen visual look of a larger, slickly-equipped studio background at a very cheap price. You don't have to build a physical background because computer art work create virtual backgrounds that look real.
A second area of our studio was set up as a permanent two-camera shooting zone using economical Japanese shoji screens as a background, I was able to set up and operate both cameras as one of Ad Age's reporters did the actual interviewing. The end result allowed us to cut back and forth between the interviewer and subject in the final program for a more professional look.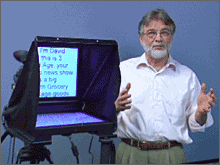 Photo: Karl Idsvoog
A big part of an in-house video producer's job is to train staff members in on-camera procedures and practices like teleprompter reading.

Getting staff involved
Don't expect the executives and staff members in your office to become instant on-camera stars. They all have the potential to be video assets, but being on-air in a video report is totally different than creating print magazine stories or participating in audio podcasts. It requires poise and certain sensitivities and skills that can be learned -- but that training takes time and patience. Personal diplomacy is also part of a video producer's job. I've learned by experience that some staffers need a bit of coaxing and help, others are immediately enthusiastic and give it their all, and some have no interest whatsoever in being on camera.
A less obvious thing to keep in mind is the value of mobile equipment. Go for video gear that works well in the studio and can be easily packed up and taken on the road. This makes your video operation far more economical and flexible. Don't have a permanent studio room? This approach still makes it possible to quickly and temporarily set up a professional video studio in a conference room or other available building space.
In assembling out all the equipment for Ad Age, we selected cameras, lighting and sound equipment that would allow one or two individuals to carry a complete portable studio setup in the trunk of a taxi cab.
All Rights Reserved © 2010, Hoag Levins
Hoag@Levins.com