...

---
From the Shores of a Bucolic Pond to
World Fame: Haddonfield's Dinosaur
William Foulke heard bone stories while dining at "Birdwood," the mansion of John Hopkins (left), that sits on the shore of Hopkins Pond (right).


---
Birdwood, the historic Haddonfield, New Jersey, home of John E. Hopkins on the shore of Hopkins Pond, played a central role in the discovery of the first dinosaur skeleton in 1858. Hopkins often invited vacationing friends, such as William Parker Foulke, to his estate house for dinner. It was here that Foulke first heard the story of the strange bones found 20 years earlier by Hopkins' diggers in a marl pit a short walk from the rear of the house. At that time marl was used as fertilizer by farmers.

With Hopkins' permission, Foulke located and re-excavated the old pit, painstakingly documenting and extracting ancient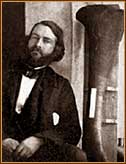 Academy of Natural Sciences
Dr. Joseph Leidy with Hadrosaurus bone in 1858.
---
seashells, sharks' teeth and the nearly-complete skeleton of an enormous reptilian creature.

Dr. Joseph Leidy

Foulke also summoned Dr. Joseph Leidy to the site. A university professor of anatomy and curator of the Academy of Natural Sciences in Philadelphia, Leidy determined the actual meaning of the find; made the first sketches of the creature based on a careful study of the bones; and formally presented the startling data to the scientific community. His Hadrosaurus foulkii studies would establish Leidy as the father of modern paleontology and make the Academy North America's preeminent institution in that field throughout the rest of the nineteenth century.

Academy of Natural Sciences

Today, Hadrosaurus is still featured as the keynote specimen in the Academy's extensive dinosaur exhibit.

The Academy still keeps some of the original Hardosaurus bones in the same type of wooden boxes Leidy used to store them in the 1860s. Leidy officially dubbed the animal Hadrosaurus foulkii. The first part of the name is a combination of the Greek words "hadros" and "saurus," meaning large or bulky lizard. The second part honors the discoverer, William Foulke.
Hadrosaurus bones in wooden box (left) as originally stored by Dr. Leidy. An early sketch of the creature (right).

---
All Rights Reserved © 1995 - 2008, Hoag Levins
HoagL@earthlink.net
.

---


OTHER LOCAL SITES
>The Haddonfield Historical Society


>Camden County Historical Society


>Historic Camden County.com